Have You Always Wanted an App for Your Business?
You probably don't have the specialized skills and time needed to develop apps. What if you could bypass these obstacles and design a custom app without any coding skills?
Enter Google AppSheet, a game-changing solution that offers a quick and easy way to build your business app, no coding required.
What Makes Google AppSheet Special?
AppSheet, a Google offering, democratizes the app development process. It's designed to enable anyone—from a local shop owner to a multinational CEO—to develop apps suited to their operational needs. Key features include:
Comprehensive Data Collection: Easily gather information via forms, barcodes, and geolocations.

Personalized UX: Adjust features, user experience, and even security settings to fit your business model.

Advanced User Management: Control who has access to what within your app through role-based security features./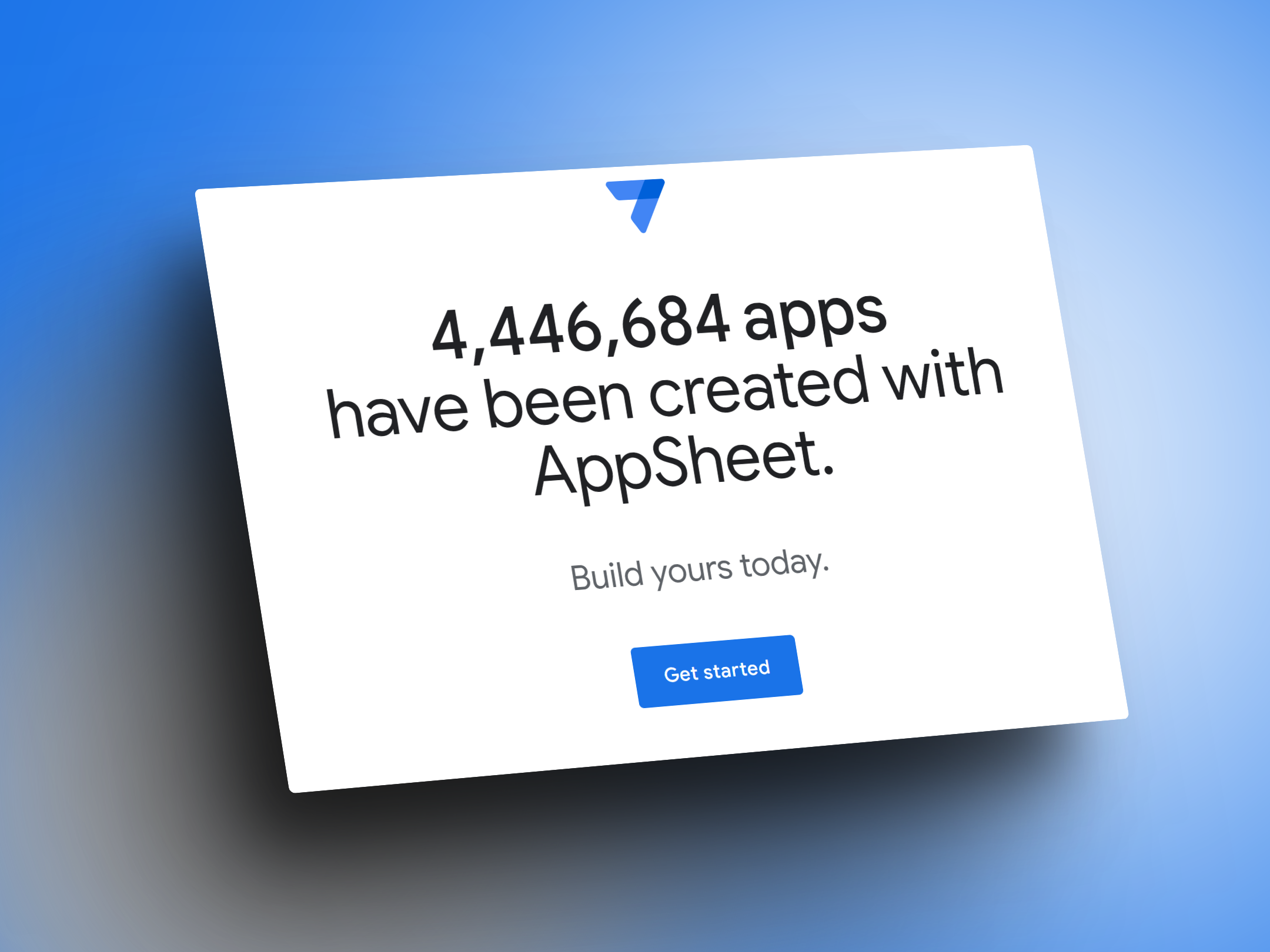 Automate Tasks Effortlessly
Process nerds will love that the platform shines in its ability to automate mundane tasks. With AppSheet, you can:
Automated Notifications: Set up trigger-based automated emails and text messages.

Machine Learning Integration: Use smart document processing and OCR technology to automate complex tasks.

Seamless Integrations: Besides Google Workspace, the platform also integrates with popular third-party apps like Office 365 and Salesforce, and SQL databases and API.
Versatility Across Industries
AppSheet's adaptability makes it a strong fit for almost any industry, from healthcare and manufacturing to real estate. Its ready-to-use templates and tight integration with Google Workspace add layers of convenience.
Common Questions about AppSheet
How Do I Begin?: A simple Google account is all you need to dive in. It's possible that some special features or limits may be available to those with paid Google Workspace accounts for businesses.

Is It Truly Code-Free?: Absolutely. The platform is crafted to be intuitive, negating the need for any coding expertise.

Is there AI? There will be AI soon! There is currently a waiting list: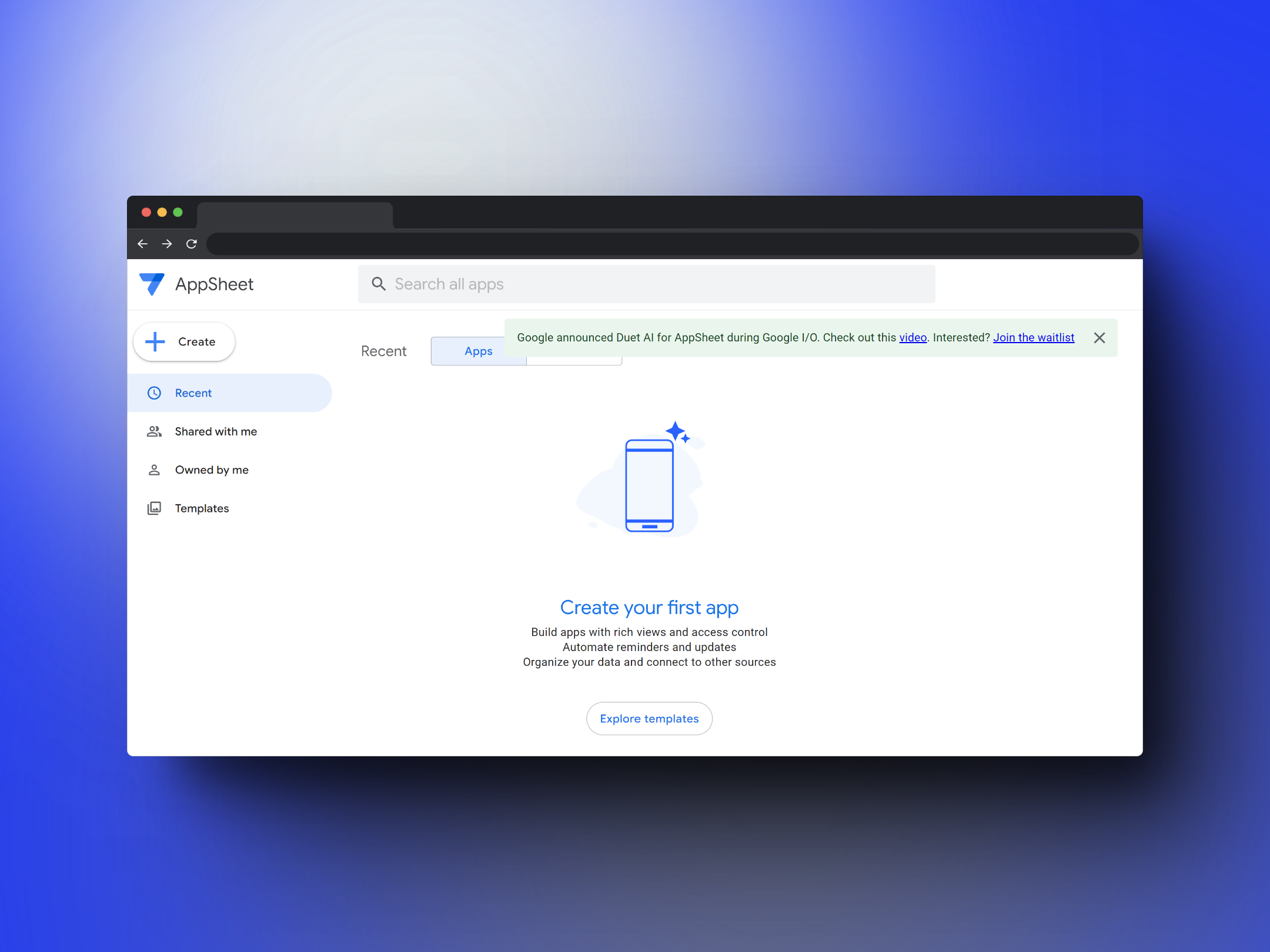 Google and Privacy Laws: What You Need to Know
In a digital age where data privacy and security are of paramount importance, it's crucial to understand how platforms like Google AppSheet handle your information. Google has a comprehensive privacy policy that governs how data is collected, stored, and used across its various products, including AppSheet.
While I'm not concerned with Google's security practices, it is important to assess privacy needs and compliance for your business, such as if you are subject to data privacy laws like the EU's GDPR.
Google was fined in December 2022 for failing to disclose how it processes user's data for specific applications, among other historical issues. This information will mainly affect businesses that are concerned with GDPR compliance and those that have cybersecurity and privacy needs that are above and beyond the needs of most businesses.
If you've been contemplating how to optimize your business processes without the complexities of coding or the costs of hiring a development team, Google's AppSheet is worth exploring.
Note: This article is independent and not sponsored by Google or AppSheet. All opinions are those of the author.